10 New Trends in Hiring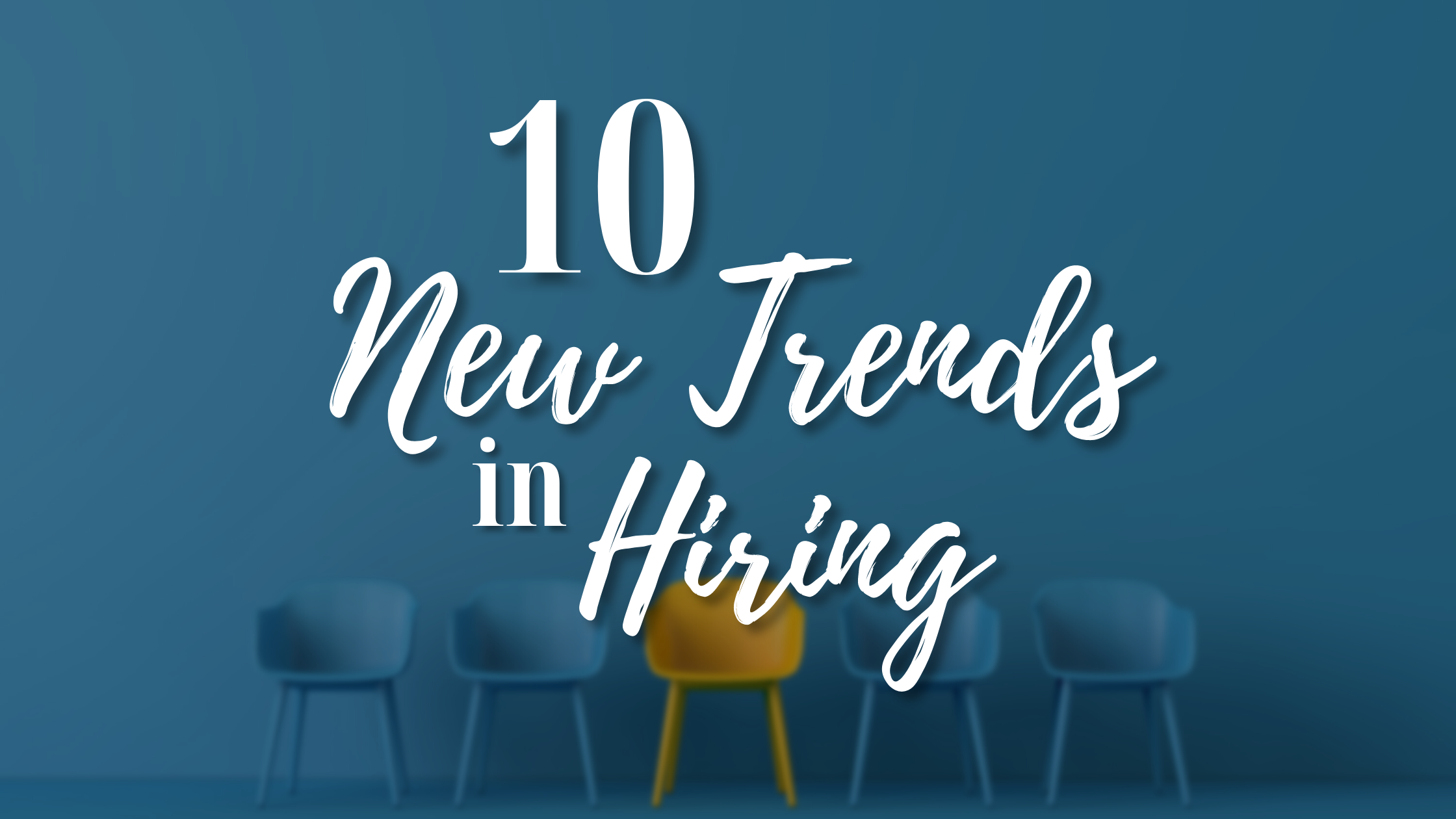 Article originally published by HR Morning on July 18, 2023. Written by Michele McGovern.
What are the newest trends in hiring — and how can you fit them seamlessly into your recruiting efforts?
This is for certain: Recruiting and hiring keeps HR pros on edge. More than 45% of HR pros say it's their top priority this year, according to research from Gartner.
That's why you want to stay abreast — or even better, ahead — of trends in hiring. If it's an applicant trend, you want to be ready to react to their newest moves. And if it's a recruiting trend, you want to know if it'll work for your organization (or if it's better to skip it).
Top trends in hiring
"While attracting talent has garnered a lot of high-level attention, it's never been more critical to get back to the basics of smart talent acquisition," said Tony Lee, VP of Content at SHRM when he spoke at the SHRM Annual Conference and Expo.
Most solid, seasoned recruiting practices will never go out of style, but new trends in hiring can help bolster those — and create competitive recruiting advantages in many markets.
Here are 10 of the newest trends in hiring, culled from SHRM's research, data and observations of what keeps HR pros up at night:
1. Make it easier
Good candidates often drop out of the hiring process because it's too complicated. In fact, 43% jump ship in the application stage because there's too much hassle.
When applicants' time and patience are limited, so will their interest in your job be.
Ideally, companies want to whittle their initial application process down to less than 30 minutes. Even better, mobile-optimize the application, as more candidates than ever apply from their phones.
2. Recruit earlier
Start recruiting new employees before they're even ready to work.
"Work with institutions to co-create curriculum," Lee said. "In return, you get the first shot at new graduates."
Programs like this work through high and trade schools, plus community colleges and universities.
Lee offered this real-life example: A community college administrator asked a local business owner why they didn't hire many of their graduates. The employer said the students didn't have the skills they needed. The administrator said they'd start courses to fill those needs — and asked the business owner if they had employees who could teach the courses. The partnership created useful curriculum and turns out great candidates every year.
3. Reevaluate education requirements
"Does every job really need a college degree, credentials or certifications?" asked Lee.
Today, many jobs that once required — and probably arbitrarily — degrees don't need it anymore. People do and can learn skill sets in different ways than through a classroom.
Another example from Lee: A large county government required employees in finance-type roles to hold a college degree. It struggled to hire for those jobs because it couldn't pay as much as private industry. Therefore, it got few qualified applicants, and even fewer interested in keeping the job. When they dropped the degree requirement, they were flooded with good applicants — many women who had experience in payroll, accounts payable, bookkeeping and general accounting at small organizations.
4. Embrace technology
Technology will continue to emerge in the HR industry. And although some fear that AI and ChatGPT will take their jobs, that's not likely.
So instead of fearing it, consider how you can partner with technology. For instance, try QR codes for quick applications, text-based scheduling and ChatGPT-created job descriptions.
One caution: "If you rely on a vendor to help you implement AI and ChatGPT tools in your hiring efforts, the EEOC says you must verify that the tools comply with Title VII of the Civils Right Act of 1964. If they don't, you are liable," said Lee.
5. Make referrals easier
Referrals are still the primary source of new hires, yet many organizations offer little or no cash incentives. You'll want to embrace a referral program and help employees get the word out about your jobs.
One easy way: Create job posts that are easy to share in social channels. Then push those out to your employees who can post them on their preferred social media platforms. Also, encourage them to share within their community, recreational, hobby and religious organizations.
6. Focus from within
Most HR leaders and hiring managers agree that internal promotions or lateral moves are the most successful. But nearly a quarter of companies have no strategy to onboard their internal moves, according to research from HCI and Kronos.
So, keep up efforts to recruit and hire from within your organization (remember, this is great for morale and engagement, too), but take extra steps to help ensure employees can succeed in their new roles.
7. Increase transparency
"Candidate experience often is the defining factor when recruiting," said Lee. "Top talent now expects transparency in all aspects of the hiring process, from company reviews … to salary data to the CEO's guiding principles."
Some keys: Respond to Glassdoor reviews, letting potential employees know your response to the review. Post salary ranges. Share your guiding principles before candidates apply.
8. Refocus on diversity hiring
Tap different populations and communities than you normally do. Some that are emerging in hiring include:
historically black colleges and universities
STEM programs
veterans, and
disabled.
9. Appeal to generations
Make special appeals to the generations in or entering the workplace.
For instance, nearly 55% of Millennials (born between 1980 and 1996) are looking or plan to look for a new job this year. They already make up 60% of the workforce. Target the social channels they use (Instagram and Facebook are most popular) with job ads. Ask your employees in that generation to share open roles.
For Gen Z (born after 1996), appeal to what they want: 35% say money is primary reason for taking a job, and 26% say good working environment is their top reason, SHRM researchers found.
10. Go after boomerangs
Good employees who resign sometimes come back. And you can increase the chances it'll happen if you train managers to handle resignations with tact and diplomacy.
For instance, rather than going into panic mode and possibly criticizing a resigning employee, train managers to say something like, "I'm sorry to hear this. If there isn't something we can do better here, perhaps you'll consider coming back to us if your new pursuit doesn't work out."
This can help build ties and create a valued alumni network.